It's finally starting to feel like Fall (even if the thermometer doesn't agree yet) and our minds are turning to the flavors of the season: butternut squash, parsnips, sweet potatoes, apples... no, none of these recipes are for "pumpkin spice" but, if you get excited by that particular Fall flavor, you can easily substitute some canna-butter or medicated simple syrup into your favorite pumpkin spice baked good or beverage recipe.
Really, you can change up just about any of your favorite recipes with medicated substitutions for butter or oil or simple syrup. Just keep in mind that you want your oven no hotter than 350° (F) or you'll risk burning off precious cannabinoids. Luckily, 350° is hot enough to get the job done for most recipes and, if you need a hotter oven (perhaps for a steak,) you can finish off the dish with herbed canna-butter or cannabis oil instead of cooking with it.

Okay, enough generalizations, without further ado... here are the four featured recipes of this post!
Canna-Butternut Squash Soup
Ingredients:
1 (2 to 3 pound) butternut squash, peeled and seeded, cut into 1" chunks
2 tbsp. cannabutter
1 medium sweet white onion (small dice)
6 cups chicken stock (low-sodium recommended)
Nutmeg, salt and pepper (to taste)
Equipment:
large stock pot
slotted spoon
blender
Instructions:
In large stock pot, melt cannabutter.
Add diced onion and sauté until translucent (approx. 8 minutes.)
Add squash and stock to the pot, bring to a simmer and cook until squash is tender, (approx. 15 to 20 minutes.)
Remove squash chunks with slotted spoon and place in a blender, let cool for a few minutes, then blend until smooth.
Return pureed squash to the pot. Stir and season with nutmeg, salt, and pepper, to taste.
Serve with dollop of crème fraiche, if desired.
Serves: 6
Cranberry, Walnut Salad with Apple Cider Cannabis-Vinaigrette
Ingredients:
Vinaigrette

1/4 cup organic apple cider vinegar
1/2 teaspoon dijon mustard
1 teaspoon light brown sugar
1/4 teaspoon garlic powder
1/4 teaspoon dried oregano
1/4 teaspoon dried basil
1/2 teaspoon salt
1/4 teaspoon freshly ground black pepper
Salad
4 cups baby spinach
2 Fuji apples (cored and thinly sliced)
1/3 cup feta cheese crumbles
1/3 cup dried cranberries
1/2 cup chopped walnuts
Equipment:
blender
salad dressing pitcher (or small bowl)
large salad bowl
salad tongs
Instructions:
Vinaigrette
Pour the apple cider vinegar into a blender.
Add in all the other ingredients except the cannabis-infused olive oil.
Turn the blender on high and blend the ingredients for about 30 seconds, until everything is well-mixed.
Now, drizzle the cannabis-infused olive oil into the blender while it runs on low-speed, until all of the ingredients are emulsified into a vinaigrette.
Pour the vinaigrette into a salad dressing pitcher or small bowl, and set aside until you're ready to serve the salad.
Salad
Thoroughly wash and dry the baby spinach, then place it in a large salad bowl.
Add the apple slices, feta cheese, dried cranberries and chopped walnuts to the baby spinach in the bowl.
Give the salad a good toss to ensure an even distribution of the ingredients.
When ready to serve, drizzle the apple cider vinaigrette over the salad and toss a couple more times. Or, serve the salad undressed, and give the option of medicated or unmedicated* vinaigrette. (*Simply prepare the recipe with standard EVOO.)
Serves: 4
Herb Roasted & "Baked" Fall Vegetables
Ingredients:
Choose 3-4 of the following vegetables:
4-5 large carrots (1 pound) peeled and sliced 1/2" thick on the diagonal
2 large parsnips (1 pound) peeled and sliced 1/2" thick on the diagonal
1 pound brussels sprouts, halved
1 head of cauliflower, cut into 1" florets
1 small butternut squash (2 pounds), peeled, seeded, and cut into 1" cubes
1 pound new red potatoes, quartered
1 pound sweet potatoes, peeled and cut into 1" cubes
Choose your favorite herb or herb combination:
1 tsp dried rosemary
1 tsp dried sage
1 tsp dried thyme
1 tsp dried basil
1 tsp dried oregano
And:
Equipment:
large bowl
2 rimmed baking sheets
Instructions:
Preheat oven to 350° (F)
Mix together sea salt, black pepper, and your choice of herbs, with cannabis-infused olive oil
In a large bowl, toss vegetables with the herbed oil mixture
Spread the vegetables out into a single layer on two rimmed baking sheets
Roast at 350° for at least 1 hour, tossing the vegetables halfway through.
Check for desired doneness at 1 hour, (potatoes and squash might take longer)
Scrape into a bowl and serve hot or at room temperature
Serves: 6-8
Caramel Apple Cider Canna-Cookies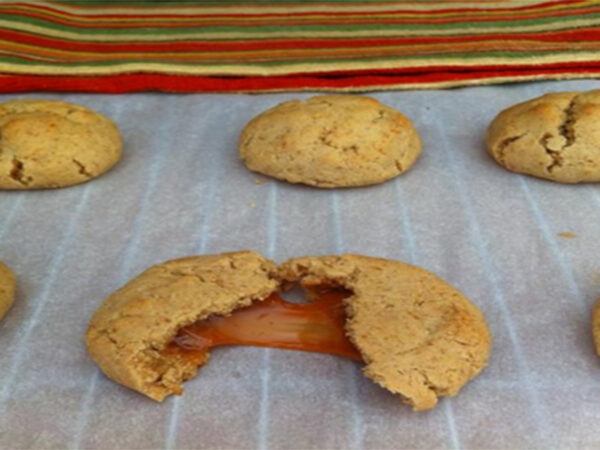 Ingredients:
1 cup of softened canna butter
1 cup of granulated sugar
1/2 teaspoon of salt
1 box (10 x 0.74oz pouches) spiced apple cider instant drink mix
2 eggs
1 tsp vanilla extract
1 tsp baking soda
1/2 tsp baking powder
1 tsp ground cinnamon
3 cups all purpose flour
1 bag (14oz) of individually wrapped caramels (unwrapped)
Equipment:
2 cookie sheets
parchment paper
large bowl
electric mixer
Instructions:
Preheat oven to 350° (F)
Place parchment paper on cookie sheets
In a bowl, mix together flour, baking soda, baking powder and cinnamon
With an electric mixer, beat together butter, sugar, salt and apple cider drink mix powder, until light, fluffy and creamy
Mix in eggs and vanilla, beat well
Gradually add flour into mixture
Mix until blended well
Place mixture in refrigerator for about an hour
Scoop out the cookie dough into balls about the size of a walnut
Flatten each ball of dough in the palm of your hand, push an unwrapped caramel into center of dough and wrap the dough around it, covering completely
Place each caramel-centered dough ball on the parchment-covered baking sheets, about 2 inches apart
Bake 12-14 minutes, or until light golden brown
Yields: about 4 dozen